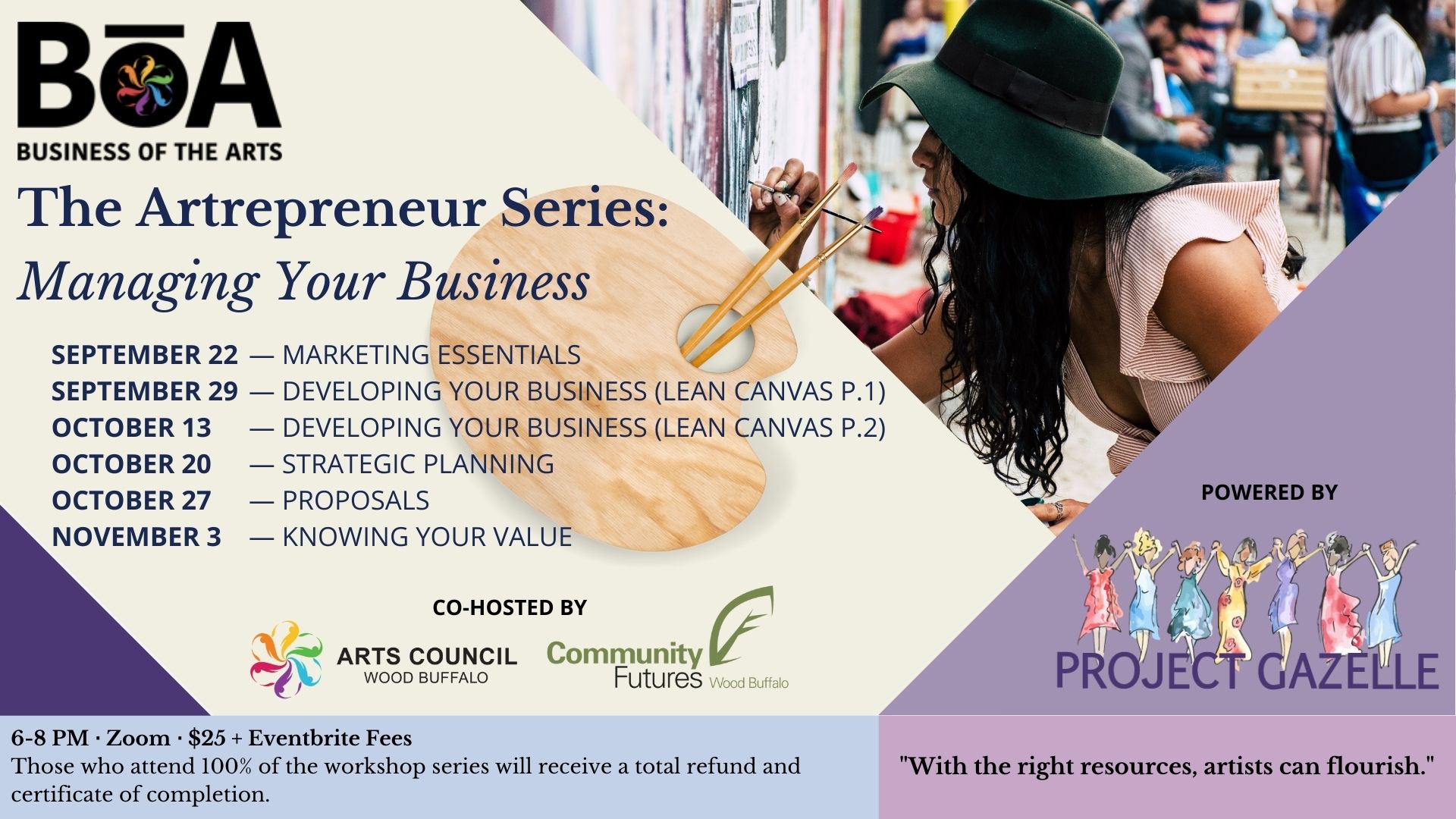 Do you practice art as a side-hustle? Are you looking to build your business skills, so you can be more independent as an artist?
Register today for "The Artrepreneur Series — Managing Your Business," a 6-week workshop series from September 22 – November 3, 2021.
About the Workshop Series
With the right resources, artists can flourish as entrepreneurs as well as artists, and create a sustainable living from their artistic practice.
The Artrepreneur Series — Managing Your Business gives artists an opportunity to build their capacity to compete and thrive through a 6-week "Building Your Business" workshop series, including topics such as "Pitching with Confidence," "Understanding Cash Flow," and "Creating a Business Plan."
This series is co-hosted by Arts Council Wood Buffalo in partnership with Community Futures Wood Buffalo. Powered by Project Gazelle.
Workshop Details
When: Thursday evenings from September 22 – November 3
Time: 6 – 8 p.m.
Where: Zoom
Fee: $25 (plus administrative fees) — Those who attend 100% of the workshop series will receive a total refund and a certificate of completion.

That's right! Get a refund for attending all six workshops.

Certificate of Completion

Those who attend all six workshops will be given a Certificate of Completion.

Made available for pick-up from the Arts Council Wood Buffalo office located at Keyano College, or can be mailed, with shipping fees charged to you.

Who Can Participate?

Open to local artists in the Wood Buffalo region, as well as participants from across Alberta.

20 participants maximum – waitlist available through Eventbrite.